<![if !vml]><![endif]>

Strategery wins 2nd place for the 2007 Round The Island regatta
Loses First to coach Randy Smyth and former crewmate Zach Grant by 34 seconds after 100 miles!!!
By Cliff Farrah
The 2007 Round the Island (RTI) regatta was a pure joy to sail. A breeze built throughout the day, making the offshore leg of this 100 mile race a fantastic spinnaker run. We started the race at 7:00 am with a mix of world class professional and amateur multihull racers. Cat's and tri's of all shapes and sizes limited only by their ability to fit under the bridges on the course were lined up in this annual test of endurance and speed. All were hoping for good breeze.
Last year, our team was able to secure a second place finish, and we hoped to match or beat that effort. We were all expecting that it would take less than the 24 hours it did last year.
At the start we were covered by our crew alumnus Brian Lambert on his CFR cat. We playedwith him a bit till the breeze built and he was able to sail away from us on plane. Our course took us under the Destin bridge, through the pass and West along the coast to Pensacola (home of the Naval Air Station). Once there, we would turn due East for the return inside the ICW (intra coastal waterway) which extends from Virginia to Texas. Sounds easy, but the channel curved and didn't always have the best angle to the breeze
As expected, Randy Smyth led the trimaran fleet through the channel to the Gulf. Closely following him was the new 31-1D sailed by Daniel Piche with Strategery NOOD teammate Don Wigston aboard. We were 3rd with Tammi Shelton in her modified 27 "Boudicca" close on our heels. Local sailing instructor Linda Wright on her 28CC was duking it out with John Novack on his 28R who came all the way from Houston.
As we got into the Gulf, 3 strategies emerged: Go outside, rhumbline and hug the shore. Randy and Don followed the first strategy - go outside. In fact, we lost sight of Randy and could only see Don on the horizon. We had a good breeze and were on the rhumbline as much as possible. We did this fearing the breeze would clock to the right as the day progresses - a normal occurrance here, which would make it too hot to carry the chute. Tammy went inside extremely tight to the shore and used that to work her way past us as we got to Pensacola. Don changed strategy with about 1/4 of the Gulf leg left, and we found that we were pretty close to them as they jibed.
We rounded the mark in Pensacola determined to pass Boudicca, who we thought owed us time. Setting the screecher, we started to catch up to them, and hailed them to find out their rating. When we found out we owed them time, well, let's just say it called for some inspired, aggressive sailing.
After about a third of the way back on the inside, we had a lead on them, but were surprised to see Linda hauling ass up on us as if we were standing still. Suddenly we realized that it was Randy coming up on us! Holy crapola - there's no way he should be there. It looked like the outside didn't pay off for him, and he was playing catchup. He ripped by us, putting our best efforts to shame.
We played as much as possible with the spinnaker/screecher/jib in the dying breeze upwind as we were chased the last few miles by a Reynolds 33 catamaran.
We rounded the last corner heading for the club and hauled up the centerboard to make it through the shallow water in front of the finish line. The water got so shallow that the rudder kicked up and steering became a bear. We got the gun and called it a day.
When we found out we were only 34 seconds out of first, we all thought about things we could have done to make up that time. Of course, that's a waste of time - we raced a great race, had a blast, laughed like we were crazy and generally had a great time. Can't wait to do it next year.
C.


Strategery wins the 2007 St. Petersburg NOOD (National Offshore One Design) regatta
By Craig Wilusz,

Sunday racing was canceled as you all know by now. It was howling around 30 knots, good call by the race committee, however the Melges 24 from England went out to play, and one of the Melges 32 went out as well. Both survived, but the 24 guys did say that the race committe did a good job calling the race.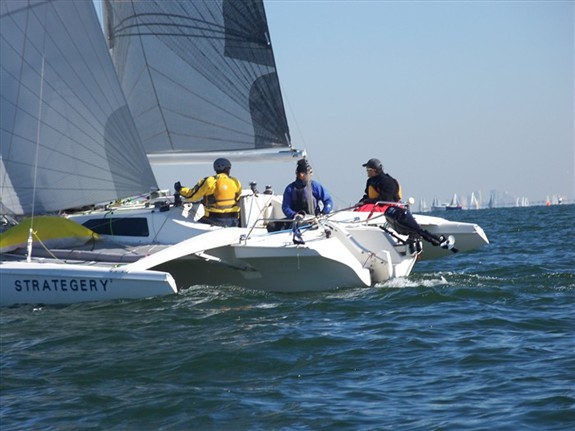 It was a strange race committe on Course C, 28Rs. The first race of the series, WLW, .9 mile legs (2.7 total) went in the blink of an eye. We finished on Strategery at the weather mark as the comittee did not have a finish line set up. We did not know this as we thought we were still going around the course 4 more times. However after seting the chute, going downwind, preping for a gybe, we saw that the second place boat passed the weather mark and finished on a newly made line. We dropped, went back up wind, passed a boat, and crossed the line in fifth. The committe, unknown to us, had already got the judges involved and gave us a redress for first. We were two hundred yards ahead of the second place boat and finished the 2.7 mile race in just under 20 minutes. We knew we were cruising between 14 and sixteen knots upwind and hitting 22-23 downwind. But wow, that was a fast race.

The RC continued to have difficulty the enitre series. At one point, dropping the notion of a fourth race one day due to communication issues with the chase, markset, and finish boats. In one race, the RC called three boats over early on the VHF, then sounded an all clear and dropped the flag, the pin boat then called us over early after the all clear, and the flag went back up again. As we sailed back to the line, the flag dropped and went back up again. When we went to the RC after the race to ask if they had called us over, they said "no, but they did" while pointing at the pin boat.

We found out later that Course C had numerous first time volunteers for RC duty, which we should have been able to figure out when they didn't know what course they were on day one when asked. So kudos to the RC volunteers, they had a rough first regatta with rigs crashing down, boats flipping over, sailors swimming.

It should have been tough for the PRO to call it quits on Sunday. If you look at the fleet scores on sailingworld.com, you will see that MANY of the fleets top finishes could have been decided with one more race, ie Olson 30's. The WL24 class had a great battle for 1st. Props to Choate for a great series. I guess that the RC saw enough rigs in the water and thought of the owners wallets. Overall the NOODs were a blast, hopefully down the road, one can be arranged in NOLA.

Ya'll have a nice day!

Craig

Strategery3 Wins 2007 National Amateur Championship title at Key West Race Week
After months of hard training, the crew of Strategery3 walks away from Key West Race Week with a strong showing - winning the National Championship for the Presidents (Amateur) fleet. Taking a 4th overall for Race Week, we were the top Amateur boat, with the pro finishers in 2nd and 3rd place within 2 and 4 points respectively. It was incredibly tight racing throughout the week, with light air the standard offering.<![if !vml]><![endif]>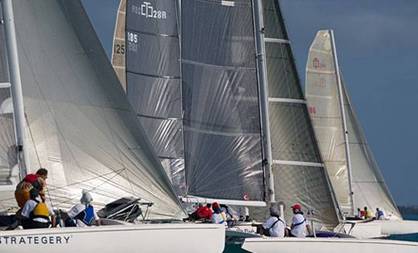 <![if !vml]><![endif]>Quite a few people have been asking how this could happen since we'd never actually competed against any 28R's before in an OD or other event. Well, truth be told, there was a bit of Strategery involved…
The Nationals at Key West had been the target for our team since buying the boat in April. Going from monohull sailing to multi's was a major change for most of the crew. Very quietly we mounted a campaign that included time on the water, boat overhaul, professional coaching from Randy Smyth, diet and exercise as its core components. We maintained a low profile hoping that we would be discounted as the newbies we were going into the race. The key components of our "Strategery"…
Time on the Water:
This came in 2 flavors – One, individual practice time working on boat speed, mechanics of boat handling and getting an overall feel for the boat. Two, boat on boat racing to get more exposure to how the boat handled in tight quarters and the tactical differences in racing choices you would make. Racing out of the Fort Walton Yacht Club was great on the tactical front, as we now have between 4 and 5 tri's on the line for racing every Wednesday night, and the competition includes Don Wigston and Randy Smyth! Unfortunately, in all the racing we did, we were never able to test vs. a 28R, so while we thought we were pretty fast, we just didn't know for sure. (As an aside, Rocketeer 2 is now owned by Brian Harrison, a club member and racing phenom - will be great to have an ongoing sparring partner to play with every week).
Leading up to the race, we were on the water every day possible in the month prior to Key West - mostly training for heavy weather in the Gulf. This was a big sacrifice for the crew members and their families, but it paid off. Imagine our surprise when the wind all week was under 12 knots. Threw a bit of a wrench in the works for us...
Boat Overhaul:
<![if !vml]><![endif]>Strategery 3 was originally "Dealer's Choice", and then was sold to an owner in SC. When we got her, she had a thick bottom paint, gouged centerboard, ground out rudder (where it had rubbed against the outboard propeller), roller furling jib, a blown out screecher, and older sail handling systems. Initially, we lived with the bottom, had the sails recut (Calvert cruising sails), switched back to the original 2002 Smyth sails (oldies but goodies) and bought a used screecher from Randy while we learned how to sail the boat. Learning what to replace, how to rig sail controls and installing new electronics took most of the summer. We then had the bottom stripped by Donnie Brennan (will be the Boatwright for the US Olympic team in China) and had him fair the foils as well. Donnie also added a rudder fence as we had this annoying habit of cavitating and losing steering at 25 knots (never fun).
Randy Smyth sold us a new set of racing sails - beautiful and crinkly. Finally, we polished the boat with Teflon before heading South. Once at the race, we were able to look at other boats and see how they were set up - got a couple of good ideas there. Of course, we also brought along "Chewie", a small stuffed toy my daughter assured me would look after us. My son Cole also gave us a pirate bandanna which found a spot near Chewie for good luck.
Professional Coaching:
Probably the best dollar spend of anything we did on the boat was to hire Randy to coach us. If patience is a virtue, then Randy must be a saint. We had several half day sessions with him, going over the mechanics of both sail trim and boat handling to achieve the goal...speed. General consensus is that we covered about 6 years of experience in 6 months with his help. I HIGHLY suggest people consider doing this to improve their game on the boat. If we hadn't done this, there is no way we would have been in the top half of the fleet, let alone atop the amateur fleet.
Diet and Exercise:
For those of us keelboaters on the crew, we found that racing a multihull can be a very physical experience. For the helm - you've got to cover a 20' beam on a surface that heels to a point and then accelerates beneath you. In addition, you are walking from a hard hull to a springy trampoline then down into the cockpit and up to the other side. For me, footwork and crew placement (as handhold) for that journey in heavy air/seas was a major focal point in making sure the mechanics of tacking and gibing worked well. Every crew member can talk about a similar transition.
In addition, this boat has NO weight requirements - Max or Min. On a multi, minimizing weight is good to help induce planning earlier. Soooooo...we all went on a diet and workout plan. Good news is that we're all stronger and healthier...bad news is that none of my clothes fit any more! I'm pleased to say that we had minimal aches and pains as a crew due to the conditioning and light air conditions.
GETTING TO KEY WEST
<![if !vml]><![endif]>We got into Key West a couple of days early. The goal was to spend some time getting used to the legendary Key West chop. We left at 9:00 at night with a 16 hour drive ahead of us. We took shifts, and with the exception of a tire stem that we had replaced at 4:00am, our trip was wonderfully uneventful. As this was our first time to Key West Race Week, we learned quite a few logistical things that may be useful for other 28R owners considering heading to the event next year.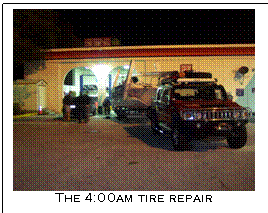 The Truman Annex is a GREAT spot to stay - within walking distance of the boat launch, clean, safe and convenient.
You can never have enough tape
Getting there 2 days early is worth doing for the crew, the boat and practice
You can find parking by the tent - no problem
The sail loft for repairs is near the West Marine - on the second floor behind the supermarket.
Harken and West Marine have rigging trucks by the West Marine - they are good!
There is a 24 hour supermarket out on Rte. 1
Getting out on the water early worked well for us - no rushing, let's people get their heads together, look at the wind/current/etc without being last minute. We were trying to be on the water by 7:30
The race committee was REALLY nice about counting down the gun on the VHF, so keep your radio on and battery charged.
We all got burned from the sun - and we're all Floridians - super strong stuff. SPF is really important. White, long sleeve technical shirts were highly valued
Hydration is key. You sweat so much that if you feel you have to use the head at the start of a race, you may not have to once half way through!
Craig loves Hot Pockets...secretly we all do...
Craig wore a wakeboarding helmet that was worth its weight in gold.
We drove overnight once the kids were in bed to get to Key West. Worked pretty well - got there with time to set up the boat and get squared away in the room. Also allowed us to have a good parking spot for the week.
Was a hell of a lot better racing/tighter racing than we expected.
THE RACING
<![if !vml]><![endif]>For anyone who thinks that racing these boats isn't as tactical as regular keelboat OD, you've got another thing coming. If you look at the overall week, other than Dealer's Choice, 6 boats were in the hunt for the top 2 spots in the overall Key West, and different class titles all the way to the last day. In every race, position at roundings shifted radically. I can't tell you how many times we were 3rd at the top mark, 7th at the bottom, 4th at the top, etc... Just wild. - Finishes were seconds apart. As I told anyone who talked with me at the event, no one was giving anything away. While I haven't been able to make it work, we all had GPS transponders on our boats for the final day's racing. You can see the data at www.kattack.com and look at tacking angles, frequency of tacks, relative boat speed, etc. It would be really interesting to compare the number of tacks in our fleet over the given course vs. other fleets on the same day. I'll bet we tacked damn near as often as the monohulls with similar angles.
<![if !vml]><![endif]>Starts were typically pin end favored to spread the boats away from the committee boat. For most starts we decided to stay on the committee end with starboard rights - Brian did a good job keeping us on the line at the right time. A couple of races we used the screecher with mixed results. Maneuverability is traded off for speed and pointing, which if you are in front is great...if not, then you tend to prove the axiom, "rubbing is racing". Sorry about that Bruce.
Everyone was fast - we expected much more separation from the fleet at roundings, but it just didn't happen. Both upwind (where there was no offset mark,) and downwind (where we shared a gate with PHRF boats) - we were pushing the limits of the crew on the mechanics of sail-handling due to the tactical requirements. Scott sprouted extra arms to wrestle the sails down in tight roundings, Craig used his strength to give us tactical advantage when possible on chute trim (unless we were getting rolled), and the entire team did a good job communicating what was happening on the course. The final scoring for the entire series was as follows:
| | | | | | | | | | | | | | |
| --- | --- | --- | --- | --- | --- | --- | --- | --- | --- | --- | --- | --- | --- |
| Place | # | Boat Name | Owner | R 1 | R 2 | R 3 | R 4 | R 5 | R 6 | R 7 | R 8 | R 9 | Total |
| 1 | 186 | Dealers Choice(c) | S Marsh/T Hudgins | - 3 | 1 | 1 | 1 | 1 | 1 | 1 | 1 | 1 | 8 |
| 2 | 156 | Bad Boys(c) | Bob Harkrider | 1 | 7 | 2 | 2 | 2 | - 8 | 4 | 6 | 6 | 30 |
| 3 | 175 | Relentless(c) | Peter Katcha | 4 | - 8 | 3 | 3 | 8 | 6 | 3 | 3 | 2 | 32 |
| 4 | 132 | Strategery 3(p) | Cliff Farrah | 5 | 2 | 5 | 4 | 3 | 5 | 7 | - 9 | 3 | 34 |
| 5 | 64 | Flight Simulator(p) | Tom Reese | 2 | 3 | - 7 | 6 | 7 | 4 | 5 | 2 | 7 | 36 |
| 6 | 185 | Paparazzi(c) | Kathryn Garlick | - 9 | 4 | 8 | 5 | 5 | 3 | 2 | 5 | 9 | 41 |
| 7 | 158 | Hot Flash(c) | David Calvert | 6 | 6 | 4 | 7 | 4 | 2 | - 15 dnc | 15 dnc | 8 | 52 |
| 8 | 164 | Ranger(p) | Bruce Jenevein | - 10 | 5 | 6 | 8 | 9 | 9 | 6 | 8 | 5 | 56 |
| 9 | 157 | Hi Five(p) | Valdek Kwasniewski | 11 p20 | 9 | - 15 dsq | 11 | 6 | 7 | 8 | 4 | 4 | 60 |
| 10 | 83 | Condor(p) | Richard Bokkerink | - 14 | 12 | 10 | 9 | 12 | 12 | 9 | 7 | 10 | 81 |
| 11 | 118 | Overdo(p) | John Novak | 11 | 10 | 12 | 12 | - 13 | 13 | 10 | 10 | 11 | 89 |
| 12 | 210 | Rapture(p) | John Kremski | 12 | 11 | 11 | - 13 | 10 | 10 | 12 | 11 | 12 | 89 |
| 13 | 125 | Endorphine(p) | John Laughlin | - 13 | 13 | 9 | 10 | 11 | 11 | 11 | 12 | 13 | 90 |
| 14 | 193 | Fifty-Fifty(c) | Onsgard\Remmers | 7 | - 15 dnf | 15 dnc | 15 dnc | 15 dnc | 15 dnc | 15 dnc | 15 dnc | 15 dnc | 112 |
As you can see be the tight scoring, nothing was decided in this regatta until the last day.
FINAL DAY
<![if !vml]><![endif]>On Friday, in addition to our crew, we had Susie Leech Nairn (former America's3 Bowman and Jobson Sailing team-member) aboard shooting video for Gary Jobson's upcoming ESPN special. This made the guys really concerned since we were bringing and extra body aboard and the forecast was for light air. So...everything not mandated on the boat was taken off to lighten the boat - all the way to shackles on halyards. Unfortunately, we also left the electronics, Tacticks and gps on-shore, so we had some real "zen"; sailing at hand.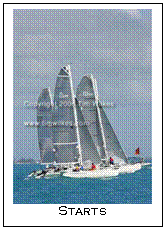 After a rough start, we rounded the top mark in 7th. Sounds worse than it was, as the fleet was packed pretty tightly. Downwind we were able to get clear air and work back into 3rd at the downwind mark. At that point, we were only one ahead of "New York"; (what we called Tom Reese's Flight Simulator). Turns out they called us "Jerry" short for Strete"jerry". We were a bit conflicted, as we wanted to try to pick off Peter Katcha who was one place in front of us, so we were trying to both protect our lead and attack Pete.
Pete sailed a great race, and ended up finishing 2nd. Tom hit the weather mark on the very first weather mark rounding, and was right behind us the entire downwind and gate leg... as well as rounding through the gate on both downwind legs. He was like glue and played a very smart (and fast) game. We finally were able to put 2 boats in between him by going left when he split off to the right, which allowed two boats to slide in there before Flight Simulator finished. Had we not kept to the left (favored side of the course), we stood a very good chance of allowing Tom to ride our tails right into the finish line. That said, it was a nail biter, and it wasn't decided until the very last leg of the very last race.
ESPN
One thing of note is that on March 11th, there will be a special on ESPN at 1:30PM that covers Key West Race week. Gary Jobson produces the show – Gary is a sailing juggernaut, with multiple Cup and world titles. He has done a great job promoting the sport and was receptive to covering the only multihulls at the event. Our footage was shot on the last day of racing, and we were one of 13 teams that were profiled. Helicopter, chase-boat and on boat footage was shot. I'm not sure how much airtime we will get, but they sure shot quite a bit. The angle they are taking is focused on the difference between monohulls and multihulls – from a speed and sailing perspective. You can also see a snippet of the boat and the interview at www.jobsonsailing.com at the midpoint of Day 5.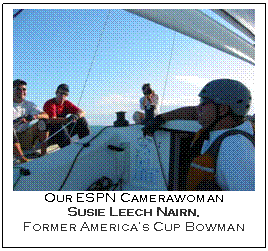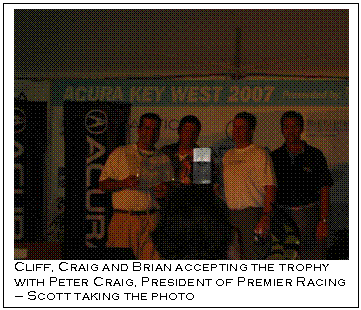 COMING HOME
We were greeted upon our return with a surprise party at Scott's house. Each crewmembers family was there. Can't tell you how great it was to see my wife and kids after a week away. The party was a treat, and we walked across the street to the yacht club where we were welcomed by the board and asked to make a speech. What a great way to finish off the trip. Thanks to everyonenfor making that happen.
<![if !vml]><![endif]>
Kudos to the crew for sticking together and coming back from a tough day
on Thursday.
Craig the soul of the crew, Mr. Irreverent and the owner of the best shirts of the fleet.
Scott the guy who got us out of trouble every time - no matter what we asked of him
Brian who called some tough tactics and kept us in the hunt.
All of us want to thank our families for putting up with us as we got ready to go on this wild ride. I especially have to thank my bride for giving me this trip as my 40th birthday present. Kim, you ROCK!!!
Now our sights are set on St. Pete and the NOODs. Look forward to seeing
those of you who can make it there.
Cliff.
10/22/06
FWYC wins 2006 GYA Multihull Championship
Brian Lambert leads the charge for the Pollak Trophy
by Bert Rice
Fort Walton Yacht Club, October 20 – 22: Brian Lambert sailing his CFR 20 with Alex Effer-Perez as crew, Bob Curry riding his NACRA 17, and Randy Smyth with his three kids, Logan, Nicole, and Matthew, joined by a high school student on his F 25 C proved to be the untouchable team, in the three light air races for sixteen catamarans and eight trimarans and claimed the Lewis B. Pollak Trophy during the Gulf Yachting Association's Multihull Championships.
Friday night featured a great pasta dinner with a super salad and all the fixin's. George Goodall conducted the skippers' meeting, and the sailors enjoyed the camaraderie on the patio. One did not have to look far or long to see a large number of friendly National and World class sailors sitting or standing nearby. In addition to FWYC, Pensacola Beach YC, Pensacola YC, and Ocean Springs YC presented teams in competition for the 10th anniversary of the Pollak Trophy. The Jim Tucker Trophy (first in the catamaran fleet based on U.S. Sailing PN's), the Lundquist Trophy (fastest boat based on elapsed times), and the Smyth Sails Trophy (first in the trimaran fleet based on PHRF ratings) were additional perpetuals that attracted so many top sailors to the show. Smyth Sails provided a keg for the weekend, and West Marine, courtesy of Susan Wilhoit and the Gulf Breeze Express store provided top shelf door prizes.
The race committee set up the course for race one in a light easterly with the start/finish line in the middle of the course in order to finish upwind. A course six (WLWLF) was the call with the catamarans starting first. Bob Hodges, from Pontchartrain Yacht Club, on his "A" Class cat port tacked the starting group and appeared to be the lead boat at the top. The spinnaker boats soon ran him down, and that was that for the uni. Randy screached away, set the chute, and broke away from the rest of the tri's. Brian Lambert put a minute on Randy's Yo.
Race two featured the same course which was a little over a mile in distance from bottom to top. Brian had knocked the rust off and marched away in Class A. Bob Curry had to fight hard to hold off the non-spinnaker "A" Class boy, Bob Hodges in Class B. Randy decided he would rather race against the cats, so he slipped away from the tri zone again. Larry Shaw, sailing Riaka, a Corsair 24 MK I, for the first time since remodeling, was second. Cliff Farrah, sailing Strategery, a Corsair 28 R raced to third. That race pretty much established the order for the day.
Course 4 was prescribed for Race three. The reach mark proved to be a mute point since the boats had to heat up the chutes for the angle. We gybed to clear the reach mark, and everything became the same as races one and two… windward/leeward, finish to go. Riaka did have to sword fight Mark Twain on the last beat for line honors and won by less than a boat length. Yo and the big tri's were way out front. Sam Showhalter, owner of Trilobyte, a C 31 AC, was coming in after winning the Harvest Moon Race in Texas, and was not to be denied fourth place behind Cliff's 28 R. The NACRA 20's were led by Mark Smith, but they appeared underpowered in the light air against the CFR 20.
Sunday morning became Halloween Early. An incoming cold front played trick or treat with the RC and cancellation of the day's racing was displayed on the yardarm. Randy and Cliff missed the awards ceremony because they were out on Choctawhatchee Bay having a "main hull flying" contest. FWYC won the Pollak Trophy. Pensacola Beach Yacht Club placed second, Pensacola Yacht Club was third, and Ocean Springs Yacht Club was fourth. Brian Lambert took home the Lundquist and the Tucker awards (not for the first time). Randy was protecting the Smyth Sails Trophy by keeping it aboard Yo during the Sunday morning "Sail."
Phyllis Seaton, Race Committee Chairperson and George Goodall, Principal Race Officer, led a very dedicated and talented race management team from Fort Walton Yacht Club. They presented us with first class hospitality and course operations. Hurricane Katrina's impact on Ocean Springs Yacht Club prevented them from defending their '04 win. FWYC stepped up to the plate and put on a wonderful regatta. Our hopes are that OSYC will have their "house" back in time for next year's event. If not…we hope to see you at FWYC next fall.
Cat Corrected:
Open A Fleet
Sailed:3, Discards:0, To count:3, Ratings:USPN, Entries:10, Scoring system:My scoring system Rank Fleet Boat Class SailNo Helm Club USPN R1 R2 R3 Total Nett
1st Open A CFR 20 10 Brian Lambert FWYC 58.4 1:31:14 1:10:41 1:02:04 3
2nd Open A Nacra 20 11 Mark Smith PBYC 59.3 1:38:14 1:16:37 1:11:38 10
3rd Open A Nacra 20 007 Harry Newkirk 59.3 1:38:31 1:17:09 1:07:36 10
4th Open A Nacra 20 USA 496 Charles Harp PYC 59.6 1:39:06 1:17:01 1:10:30 12
5th Open A Nacra 20 1009 Mike Wilson 59.3 1:36:33 1:24:54 1:09:56 13
6th Open A Nacra 20 26 Mark Ederer BYC 59.6 1:44:27 1:22:58 1:13:56 18
7th Open A Nacra F18 625 Kirk Newkirk 62.6 1:43:24 1:23:18 1:15:21 20
8th Open A Nacra F18 588 Steve Miller 62.4 1:46:44 1:24:13 1:15:08 22
9th Open A Nacra 20 USA 18 Mark Murray PBYC 59.6 1:52:30 1:27:18 1:16:32 28
10th Open A Nacra 20 1047 Robert Holstead OSYC 62.4 1:51:39 1:36:54 1:21:25 29
Open B Fleet
Sailed:3, Discards:0, To count:3, Ratings:USPN, Entries:6, Scoring system:My scoring system Rank Fleet Boat Class SailNo Helm Club USPN R1 R2 R3 Total Nett
1st Open B Nacra F17 23 Bob Curry FWYC 66.7 1:28:38 1:12:17 1:04:34 4
2nd Open B A-Class USA 230 Bob Hodges Ponchartrain YC 65.6 1:28:25 1:14:48 1:07:03 5
3rd Open B Hobie 16 108600 Karl Renelt 76.1 1:50:54 1:30:35 1:19:10 10
4th Open B Hobie 17 980 Bob Florence 74 1:46:39 1:34:26 1:23:20 11
5th Open B Hobie 17 2005 Ron Knight FWYC 72.16 1:59:43 1:37:27 1:23:32 16
6th Open B Prindle18 1938 Stuart Juengst FWYC 74.8 1:55:52 1:48:51 1:37:40 17
TRIMARAN CORRECTED:
FINAL PHRF RESULTS
Overall
Sailed:3, Discards:0, To count:3, Ratings:PHRFTOT, Entries:8, Scoring system:My scoring system Rank Fleet Boat Class SailNo Helm Club PHRFTOT R1 R2 R3 Total Nett
1st Multihull PHRF F25C 111 Randy Smyth FWYC -15 1:09:47 1:03:37 0:52:29 3 3
2nd Multihull PHRF Corsair 24R 9 Black Larry Shaw Still Waters YC 99 1:13:02 1:03:55 0:54:45 6 6
3rd Multihull PHRF Corsair 28R 132 Cliff Farrah FWYC 21 1:14:42 1:07:02 0:55:23 9 9
4th Multihull PHRF Corsair F 31 51231 Sam Showalter Port Arthur YC -21 1:16:16 1:09:35 0:57:27 14 14
5th Multihull PHRF Corsair 24 2010 Bert Rice 84 1:18:01 1:09:42 0:56:09 15 15
6th Multihull PHRF Corsair 750 9 Donald Wigston FWYC 33 1:18:02 1:09:22 0:57:37 16 16
7th Multihull PHRF F31R 181 Willie Blevins LMSA -25 1:18:45 1:12:05 0:57:55 22 22
8th Multihull PHRF Corsair 28 94 Linda Wright FWYC 42 1:20:51 1:11:58 1:00:57 23 23

Round The Island Race - September 17, 2006
100 MILE IRON MAN RACE

---
This year's Round the Island Race turned out to be a twenty four hour roller coaster ride moving in slow motion. A fleet of nine Corsairs sailing PHRF competed in the Trimaran Division this year. Russ Kincaid on his F27 took overall honors with team Strategery III coming in second place. The race started at 7:00 am in a morning land breeze that varied form four to eight knots depending on when and where you were at. Strategery had a good start right next to National Champion, Don Wigston sailing his Sport 7500 and ahead of most of the fleet. We were able to carry spinnakers at the start and our team's photo made the paper twice the following morning.
We reached across the bay and sailed out of the pass at Destin Florida rounded the sea buoy and headed west towards Pensacola, Florida. Winds remained light and variable throughout the morning with Randy Smyth sailing away form the fleet leaving the rest of us to fight down the beach. As we raced down the beach passing Fort Walton Beach, boats traded positions on each gybe. One gybe, Wigston would be ahead of us, the next gybe, we would pass him. Russ Kincaid was quite away behind us but every once in a while he would be right behind us and suddenly we could see his blue hulls. A few minutes later, he would be right behind us looking to pass us. This went on all morning long until we approached Navarre Beach and the wind shifted to a beat and started to die. As the wind died little pools of boats would gather together separated by half mile intervals. He seemed like as the wind evaporated, it whirl pooled all of the boats up into little groups.
This resulted in a restart of our little group around noon on Saturday. Seeing as we had only sailed about 25 miles, we knew it was going to be long race, in fact it appeared that it was going to be a miserable 100 miles to the finish. In fact, when I mentioned that I sure was glad that I wasn't on a Flying Scot trying to sail this race, Scot Mitchell who also races GYA for FWYC said that Tommy's version of Purgatory would be God making me sail the Round the Island race in a Flying Scot. I soon as I would finish he would make me sail it again and again, nothing short of pure hell.
The sea breeze finally filled in for awhile and we close reached down the beach until will approached Pensacola Beach and the wind went light and shifty once again. There was no rhyme or reason as to where the next puff would come from and how long it would last. Our little group of boats changed slightly to include a modified F27 from Ocean Springs, Mississippi and Russ Kincaid dropping back to the next pack of boats. The modified 27 led the group into the pass at Fort Pickens but had trouble setting their spinnaker against the outgoing tide. We slipped over close to shore getting out of the tide and passing them once again and closing in close behind Wigston once again. We carried a spinnaker across Pensacola Bay, reaching next to the modified 27 who carried a screecher. It was hard to tell which sail worked best as the two of us stayed right next to each other for several miles while Wigston pulled away from the two us. The Sport 7500 has always been a little faster than us close reaching, but we held our own with him for the first time since we started racing Cliff's F28R. The sun was starting to set around 7:30 as we entered the inter-coastal waterway at Pensacola Beach.
As you can probably guess, the wind followed the sun and disappeared into the night as the land cooled to equal the temperature of the Gulf. Strategery III and the modified F27 swapped positions about 30 times on the close reach up the inter-coastal waterway. We heard reports from the club that the first boat had finished and we were thirty miles from home and moving at about 1.5 knots. Mike Kelley and Leisha made arrangements for hamburgers to be cooked for boats as they finished up until midnight, when the race committee packed up leaving the remaining thirty five boats to take their own finish time. I failed to mention earlier that thirty eight boats were registered and started the race. So yes, sixteen hours into the race only three boats had finished. We all hoped they enjoyed their hamburgers, but wondered where the rest of the fleet was parked. Not a single boat other than the three finishers was spotted on Choctawhatchee Bay after 1:00 in the morning. Reports started coming in that boats were dropping out. Randy Smyth who had opened up a several hour lead over the Trimaran fleet quit after being parked in the same area for over six hours. No wind, no current, nothing but stillness for six hours. At least we had three boats fighting their way along in one to two knots of breeze and a current that would pull you towards the finish line at a half a knot.
Strategery III cut a dogleg out of the course at Mary Esther and carried a wind line that reached out about fifty feet from the shore. I don't usually call two knots of breeze a wind line but compared to mirror slick finish on the rest of the Sound; it was indeed. We left Wigston and the modified 27 out of sight behind us and carried the wind all the way to downtown Fort Walton Beach. The water once again went slick and we had to tack through Brooks Bridge fighting the current and a Nacra 18 who was on Starboard tack every time we crossed close together. There was a little breeze on Choctawhatchee Bay as we sailed the narrow strip of the inter-coastal but you could see slick areas all over the Bay as we were trying to make it to the finish line at FWYC.
We finished the race at 4:38 in the morning, making our time on Wigston and the modified 27. Scott and I left for the house after parking the boat and seeing those boats finish. The happiest crew in the world as we thought we had won the Round the Island Race. This was the first time around for each member of the crew and we were elated. We woke up early Saturday morning, which was really later Saturday morning as most people go to sleep before 5:30 which is when I usually wake up each day to head off to work. Craig had the disappointing news for the team. Russ Kincaid slipped in during the night finishing only forty two minutes behind us. We had to beat him by forty eight minutes. During a three hour nap we went from champions to also ran. Congratulations to Russ, the Bastard!
One thing was for certain, Cliff, Craig and Scot have invested much, time, money and effort in making Strategery II a force to be reckoned with. The boat sailed faster than ever and the crew work was spectacular. We actually sailed a great race, had fun. The competition was fierce. No one on the boat took a nap the entire twenty-one hours. We brought tons of food and drinks but were too busy to enjoy any of that. Thanks to Cliff for allowing us to race his boat, while celebrating his mothers 80th birthday at home with her. We spoke with him often throughout the race and his encouragement kept us gong strong all night long.
Being smart sailors like we are, we all said we would never sail another Round the Island race again. So smart in fact, that next year we're going to kick some ass!
Tom R. Garner
One Tired SOB
GREAT BAY RACE - June 17, 2006
---------------------------------------------------------------------------------------------------------------------------------------

Strategery III takes second place in Division I in the Great Bay Race. The Great Bay Race this year turned out to be a 28 mile steeple chase with four Corsairs competing in Division I. We finally gave National Champion Don Wingston a run for his money. Capitalizing on a great start and reading the puffs correctly, we were the first boat to the windward mark. Local UK Halsey Sail maker
Kevin McAuliffe crewed with us this regatta after making some much needed modifications to our mainsail. By taking a six inch section out of the luff of the sail, we were finally able to flatten the main and get some good boat speed upwind. Don's 7500 was a little faster on a tight reach to the next mark and got a last minute lift to barely edge us out at the turn. It is hard to believe that someone is sailing faster than you when you are going seventeen knots. We had big smiles on everyone's face whenever the puffs came through. We then sailed a long screecher leg across the bay with the two of us leaving the other Corsairs far behind. The turn at Boggy Bayou had us beat back across the bay to Cobb's Point in Destin. We stayed with Don and had our time on him after another long reaching leg down to Mid Bay Bridge. We had several problems furling the screecher on the first broad reach and were unable to use it the rest of the day after that leg. We ran down to Boggy one more time with Wingston flying his screecher and us carrying the spinnaker. He gained a little on us on that leg but we still had our time until we decided to join the large local fleet of shrimpers using our spinnaker instead of nets. It doesn't take long on a Corsair going zero to lose a bunch of time to one exceeding ten knots. By the time we got the sail back on board, we had very little chance of catching up to them. The good news was that there was no damage to sail and we carried it all the way home after one last close reach across the bay to Destin.
The race started at 11:20 and we finished in less than three hours. Not bad for a twenty eight mile race. There was a cookout at the Gazebo after the race and friendships with the multihull crowd renewed. There is not a bunch of multihull racing that has been going on in our local area. Most of the sailors are hot shots and sailing Volvo Extreme 40's, Tybee Long Distance Races, Hog's Breath 100's, Mug Races and national championships around the country. It was a great Great Bay Race and a very satisfying day for Strategery Team South. Oh, by the way, the winds ranged from ten to eighteen knots with no clouds and ninety two degree temperatures. We certainly wish our owner and team leader Cliff was here to enjoy the fantastic conditions. The whole team is convinced that the sail modifications and new running rigging made a huge difference in our performance. A little sanding on the hulls and a little more aggressive sailing on soon we will make that leap from second to first. Of course in sailing is like baseball and percentages are everything. We can continue to improve with each race and eventually beat him, our one day he may just not show up. Our goal once again is to rise to his level and leave the other boats wondering what happened. Tom R. Garner

WEDNESDAY FUN RACE - 5/17/06
---------------------------------------------------------------------------------------------------------------------------------------
Took a 3rd spot last night. On board we had Zach (former Wave World Champion), John and Brandon, Kyle and myself.

Here's what we learned:

Learned about the jib downwind. We need to center the mast to fulr and unfurl. Also need to leave jib halyard tension off to furl and unfurl. Unfurl Jib going into bottom mark and crank on the halyard with the mast centered.

Keep the weight forward until it is scary than slide to stays.

Don't trim spin aft of the stays.

Either let the tack out completely or the halyard all the way down but not a combination of both on the chute.

Foot on main is definately too long.

Keep jib up when running downwind withthe chute in light air

One guy on the spin sheets on the jibes and another pulling the chute around and down works well
Need to mark the spin haylard when full hoist, numerous people don't realize how much higher the chute hoist is from the headsails.

Need to think about a different traveller set up (Harken?) lots of friction .
I agree with putting another winch on the cabin top. Cross sheeting the jib forces the lead forward upwind and really upsets the sailplan.

Everyone needs my haircut.
-Craig.


DOUBLEHANDED CHALLENGE - 5/13/06

--------------------------------------------------------------------------------------------------------------------------------------------------------------------------
Strategery takes second place in their first official race (kinda sorta, if you think Dennis Conner really won an America's Cup in San Diego). FWYC hosted the Fleet Captains Double Handed Challenge on May 13, 2006 where sixteen boats competed in this crazy event. Strategery was placed in PHRF Class A racing against Trimarans, Sprit boats and the normal PHRF fleet at the club. To no ones surprise, the Tri's and Sprit boats took home all of the silver. The race was a Bermuda start format on a nine mile course with Strategery the last boat to start. In fact, the boat started twenty minutes after the first boat. The first leg was a beam reach which led to a tight reach before rounding the turning mark to head straight downwind. Fort Walton's own Don Wingston (2006 Corsair National Champion) started several minutes ahead of us and we were never able to catch him. Stragegery3 was the only boat to cross the starting line flying their spinnaker as the crew let everyone know right away that we were going for broke.
We caught up with most of the fleet at the far end of the Choctawhatchee Bay and turned to head upwind. On his Corsair 24, Don Wingston took off upwind and passed the rest of the Fleet immediately. It took us most of the upwind leg to pass most of the boats. The few that were ahead of us when we rounded the upwind mark to head back to the club had to watch in despair as we blazed past them at fourteen knots compared to their six knots. We were sailing close to or above the wind speed and motoring right by them with the screecher working very effectively.
Our team all believe that is not a fair race to pit multihulls against monohulls, but it sure was fun showing off the boat to these other sailors and making it clear to everyone, that maybe sailing a Trimaran was what the doctor ordered. As one design racers, the team's first year goal is to build a one design fleet on the Gulf Coast where ratings don't matter and sailing skills are the true test of the team's abilities. This was the perfect kind of race to get everyone's attention. With the slowest boats starting first and everyone supposedly finishing at the same time, the Corsairs showed everyone just how fast they are. We screamed by each boat as they watched in awe and waved us by. Amazingly, not a single sailor complained about having to race against the Corsairs and everyone had a great time.
With a tall rig main, spinnaker, screecher and jib, our two man crew was worn out by the end of the race, but our faces beamed with the rush we had just experienced. The next Wednesday night race is expected to have four Corsairs on the line. Two of the boats will be sailed by former National Champions in the class so interest is quickly building for the fleet. Unlike many sailors, the crew of Strategery is not intimidated by this fact but instead looks forward to the challenge as we prepare for next years Nationals at Key West Race Week.
Tom R. Garner