Team Strategery's Southern crew races a one-design trimaran called the Corsair 28R. Sporting a tall carbon-fiber rig, asymetric chute and screacher headsail for light air, this boat is capable of 20+ knot speeds.






HOUSTON NOOD BLOG HERE!
Link to Houston Blog 07.htm
The Strategery Crew takes a much needed summer break - racing to resume at the Houston NOOD regatta in September
100 Mile Round The Island Race - Strategery takes second place, losing to team coach Randy Smyth by 34 seconds!
Strategery team featured in Sailing magazine's August issue - chronicle's the move from monohull to multihull
Strategery Takes Second place at the Billy Bowlegs regatta. Don Wigston wins overall.
Strategery wins Bluewater Bay Sailfest Regatta - Multihull division. Craig Wilusz on helm.
Strategery wins Multihull Division in the Dauphin Island Race. Craig Wilusz drove
Strategery wins 3rd place in class for Corsair Nationals in Pensacola, and 6th place overall on PHRF vs. all classes
Strategery wins first place in trimaran Doublehanded Challenge Cup at FWYC.
2/18/07: Strategery wins Corsair 28R title at the St. Pete NOOD regatta.
1/21/07: Strategery wins the National Class Amateur Title for 2007 at Key West Race Week! Taking a 4th place finish over a week of grueling racing, Team Strategery was beaten by 3 professional teams but was the top amateur boat. ESPN was on board the final race and Strategery will be featured in the March 11th recap by Gary Jobson. Short clips can be seen on Day 5 coverage at www.jobsonsailing.com
10/22/06: Strategery wins 3rd place in the Gulf Yachting Association 2006 Multihull Championship. KWRW Crewmate Brian Lambert wins the overall trophy on his CFR 20 catamaran, while Dave Vaughn joins the crew as Mainsheet trimmer for the race.
10/1/06: Brian Lambert joins the crew as Tactician, Scott moves to Foredeck and Craig moves to Headsail trimmer.
9/16/06: Strategery takes Second place in the Round the Island race. A 24 hour, 100 mile drifting match...read about it under "Racing" - Pics in Photos.
9/23/06 Crewmembers Craig Wilusz and Scott Mitchell head to the Houston NOOD regatta as guests on Kevin Grice's ride.
9/1/06: Strategery is entered in Key West Race Week for 2007.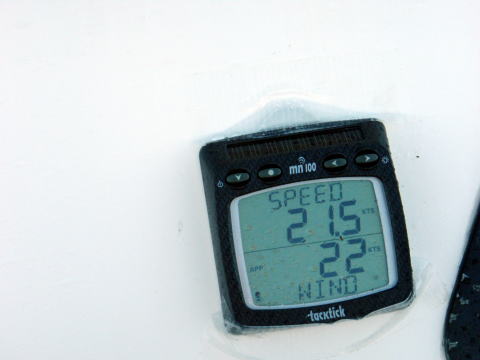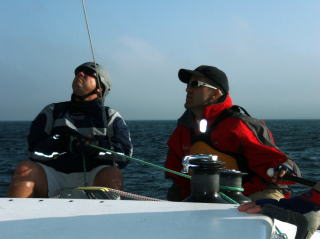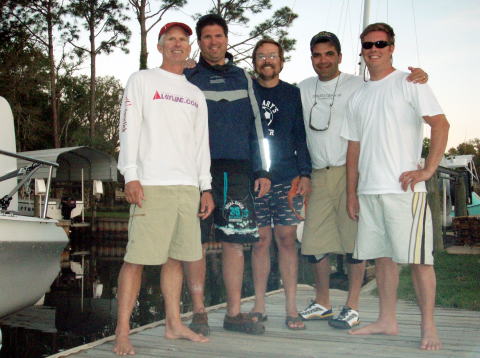 The Crew (left to right): Randy Smyth (Coach), Craig Wilusz (Tactician/Main), Scott Mitchell (Bowman), Cliff Farrah (Helm), and Dave Magee (Headsail trimmer)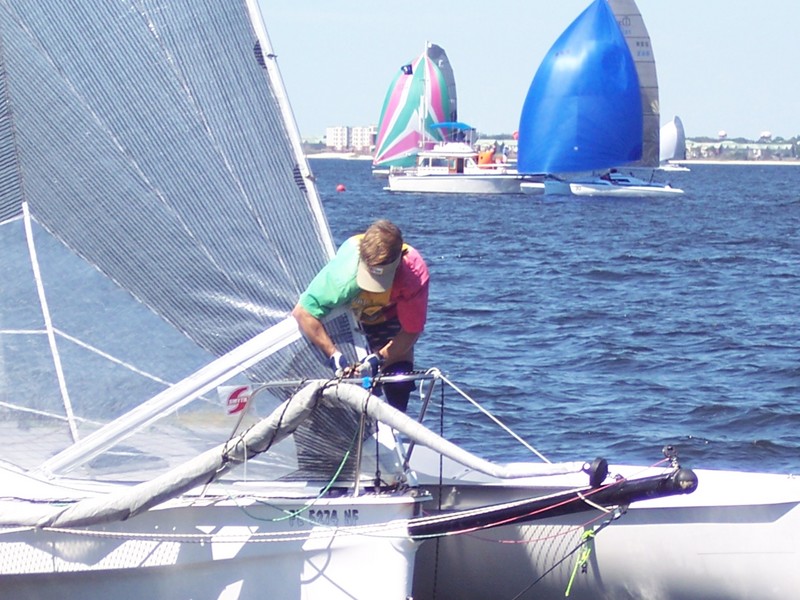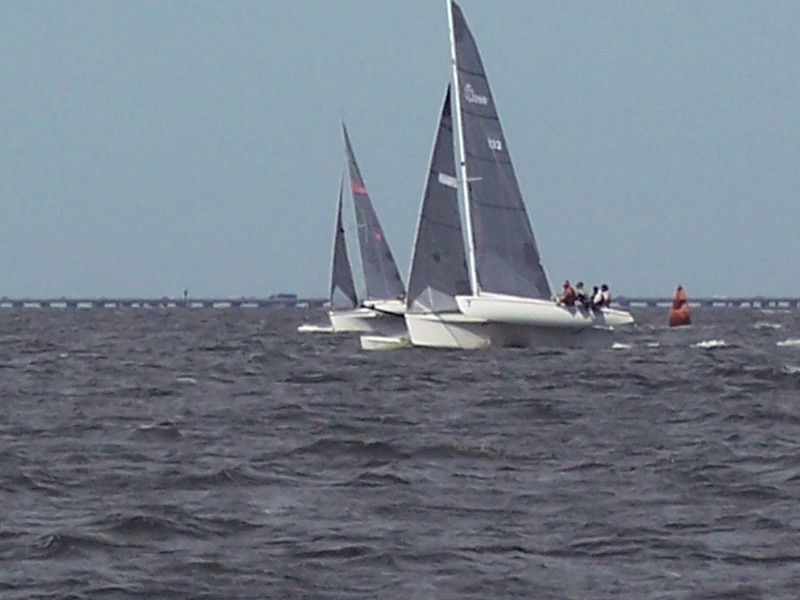 Scott on the bow...rigging the screecher
Craig and Cliff...flying the chute
Why go 10 knots when you can go 25?
At the 2007 Nationals...finally grooved in the last race